On May 18th 2015 it will be 30 years since my first radio show.
Now I don't have a date for when I first fell in love with radio but it preceded 1985 by a good bit.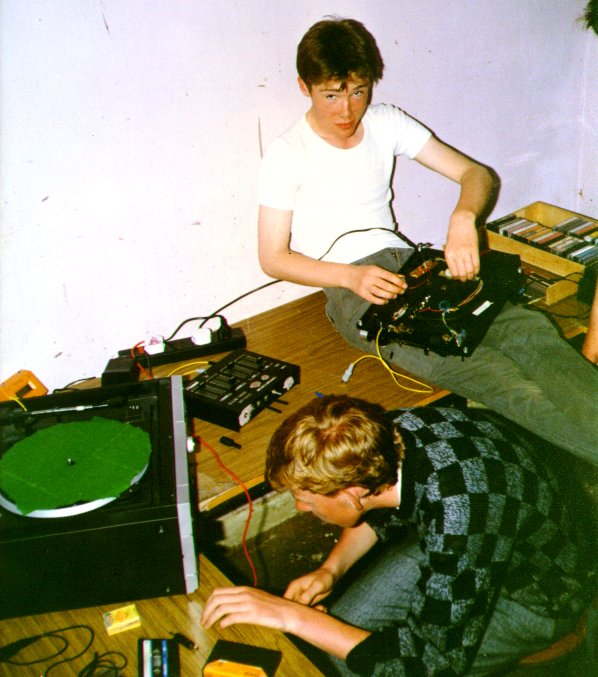 Thinking of those early days of radio I think of my record box – I didn't have many records to fill the box and I begged and borrowed to get myself started. For years I bought singles and albums on vinyl and then on CD and then on downloads. I never archived my collection, and it is still very near at hand even if a working record player or CD player are not so readily available. What is more important than the media are the memories. And memories that recall music are memories loaded with meta memories of what the music means and a link back to when it was played or when it was first released and how it links to other music, artists, fans and friends.
The early collection grew and grew and burst many a LP box before I got indestructible cases for 7″ 12″ Cassette & CD. The collection got bigger and bigger as this DJ stayed in touch with charts and oldies for radio shows, station libraries and live sets. Sometimes I recall the story of Barry McGuigan who claims his long boxing reach was gained from shifting sacks of potatoes in his youth, if this is true then my own arms must be extended from the lugging around the music (when it was heaviest) down through the years.
Over 30 years many a radio show was recorded and these are at hand too on compact cassette while again I can barley find time to dust down the 500+ tapes I own or dust down a tape player which I also have but may not be plugged in. And there are minidiscs and realaudio files & mp3 recordings of programmes past, on stations long closed down.
The media I speak of it collected and treasured while my head has the memories.
More than the memories are the friends I have made through radio, radio friends are often friends for life. The memories fade… this is not a sad irreversible moment. As like radio, the fun begins when the night sets in, the signals fade with skip and the spectrum is swallowed up with new distant sounds to fill your ears.
The media, the jingles, the promos and transmitters, the stories and the craic, the people and the music, the friends still with us and those dearly departed, to the listeners and my family for their encouragement and support. THANKS.
My wish after 30 years in part time broadcasting, that the next 30 years will be as exciting and as plentiful as the first 30.
Only the strong survive.
73s